PETER KRAUSE NAMED NATIONAL PGA TEACHER OF THE YEAR!
Peter Krause, a PGA of America member since 1986, and one of the most respected PGA teaching professionals in the Midwest, is the first Minnesota PGA member to capture the PGA Teacher of the Year Award. Krause, a former teaching professional at Bunker Hills Golf Course in Coon Rapids, Minn., is in his first season as PGA director of instruction at Windsong Farm Golf Club in Independence, Minn.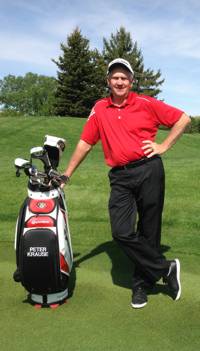 A native of Coleman, Wis., the 51-year-old Krause is a PGA Master Certified Professional in Instruction and is a
six-time Minnesota PGA Teacher of the Year Award winner
. He also was the recipient of the 2002 Section Horton Smith Award.
"An honor like this is overwhelming as a teacher," said Krause. "The profession is about giving to others and improving their level of play. I believe in the saying that it is more important to give than to receive."
Krause, who is single, is a 1976 graduate of Baylor University and was elected to PGA membership in 1985. He began playing golf as a 12-year-old, hitting balls back and forth at the Coleman (Wis.) High School football field and becoming a self-taught player.
Among those Krause credits for helping him form a teaching philosophy are a duo of famed PGA Teachers of the Year -- 1993 recipient Hank Haney and 2001 winner Craig Shankland.
"I had spent so much time trying to be a Tour player, that when I met Craig Shankland, he helped me channel my desire into teaching," said Krause, who was the 2004 Minnesota PGA Senior Player of the Year. "Craig convinced me that I had a gift to teach. And, Hank Haney taught me the 'Xs and Os' of teaching. I kept searching and scratching for a way to be effective. Without Hank, I would not have had a chance."
In 1990, Krause established the Peter Krause Golf Academy at Bunker Hills. From 1993-2000, Bunker Hills hosted the Burnet Senior Classic.
Among those players whom Krause met was Champions Tour veteran Graham Marsh, who sought the Minnesotan's coaching advice prior to winning the 1997 U.S. Senior Open, and then followed up by winning the 1999 Tradition.
"It was a very rewarding experience and also a learning experience to have a student win a major Championship," said Krause.