2019-2020 Winter Position: Wilderness Country Club - Naples, FL
Starting in November thru April of 2019/2020, I will be teaching at Wilderness CC in Naples, FL. I will be available for private instruction, individual golf schools or group golf schools. You can arrange your session by contacting me at 612-598-8442 or, thru e mail at
golfpro@peterkrausegolf.com
. I look forward to helping you with your game. For more information about Wilderness Country Club, go to
www.wildernesscc.com
.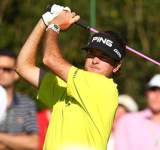 Peter Krause featured on GOLF.com.
"How Bubba Watson Hits it Bubba Long"
Bubba Watson put on a fantastic display of power and distance which helped him win his second green jacket at the 2014 Masters. In my article, you will learn the secrets to becoming Bubba Long with your own game and get you that extra distance you are looking for.
View article

Peter Krause featured in May 2014 GOLF Magazine
"Watch & Learn: Marc Leishman's Old School Swing"
In a day when the modern PGA Tour player relies more and more the use of their big muscles to provide power and accuracy, Marc is a throw back to the old days when timing, swing plane and proper sequence of motion is the key...
View article
Peter Krause Named National PGA Teacher of the Year!
Peter Krause, a PGA of America member since 1986, and one of the most respected PGA teaching professionals in the Midwest, is the first Minnesota PGA member to capture the PGA Teacher of the Year Award. Krause, a former teaching professional at Bunker Hills Golf Course in Coon Rapids, Minn.
Read entire PGA press release
Read my article in the April/May 2010 OB Golf & Lifestyle Magazine
(pdf)